The Sudden Surge In Lyric-Free Listening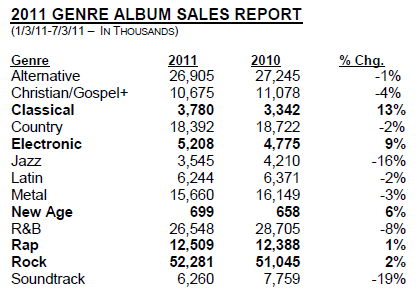 If you love "baby, I love you" lyrics, don't worry: they're not going anywhere. But lyrics are no longer an essential part of music for a growing number of artists and fans, and neither are radio-friendly chord changes, predictable song structures, or four-minute lengths.
Sounds like a new, refreshing change-of-pace for music.  But this goes beyond electronica, easily the biggest growth category. We took a look at first-half album sales figures for this year, and found something interesting: the three largest-growing formats by album were Classical, Electronic, and New Age, in that order (by percentage increase).  In fact, according to Nielsen Soundscan, they were 3 of only 5 genres to increase, and the only genres growing in the double-digits.
These are US-based, album-only sales, and let's face it: Classical remains an embattled category.  But the growth story on Electronica remains explosive. Subgenres like Dance, Progressive House, Drum and Bass, Electro-Hardcore, and Trip Hop are drawing thousands at festivals like EDC, and millions of fresh listeners worldwide.  Indeed, in just one year at Coachella, it seems like the rave-friendly Heineken Dome suddenly expanded into multiple environments.  And the new class of superstars includes once-unconventional types like deadmau5, Wolfgang Gartner, Skrillex, and Tiesto.
Exactly where this trend goes is hard to gauge, simply because musical formats and trends are always shifting.  Indeed, this article could have been written decades ago during the surging heyday of Jazz, also a relatively non-lyrical artform.  But these days, improvised trombone solos are stuck at 88.1 on the FM dial, which is still more mainstream than formats like Dubstep.