Million Father March: Will Your City or Town Participate this Year?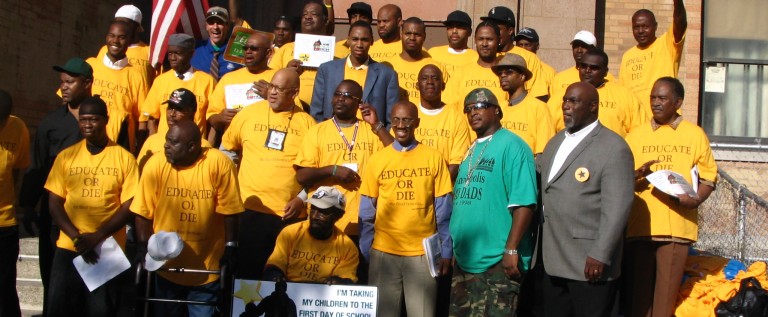 The only thing that stands between the children of your community receiving an excellent education or not is your involvement, or lack of it, in their education. Will you join the Million Father March? It is easy! It does not take much time. It does not take much money. We give you everything you need to succeed. It only takes you wanting to make a difference in the lives of your children and children in your community. Please call Bruce at 773.285.9600 begin_of_the_skype_highlighting 773.285.9600 end_of_the_skype_highlighting to register your city for the 011 and to get an organizing kit. You may also respond to blackstar1000@ameritech.net.
"Fathers can, should and must play a critical role in the education of their children….that would really help your children and this entire city," Mayor Nutter remarked.
Parent experts from across the country joined with parent experts from Portland, Oregon to move forward the Parent Revolution — creating parents who create outstanding children on June 18, 2011!  Included in this photo are Steve Moore, President, MJ Murdock Charitable Trust – Portland; Phillip Jackson, The Black Star Project – Chicago; Dr. Stephanie Irby-Coard, Professor, University of North Carolina – Greensboro, North Carolina; Mama Dr. Joyce Harris – Portland; Dr. Andrae Brown, Professor, Lewis and Clark Graduate School of Education – Portland; Charles McGee, CEO, Black Parent Initiative – Portland; Gary Withers, VP of Concordia University and Co-Chairman of BPI – Portland; Dr. Jawanza Kunjufu, African American Images – Chicago; Johnny Parker, The Parker Group – Washington, D.C.; Andrea Cook, President Warner Pacific College – Portland; and Dr. John Sowers, The Mentoring Project – Portland.
The Black Parent Initiative – Our History
The Black Parent Initiative (BPI) was established in 2006 to help families achieve financial, spiritual and educational success. Our vision is actualized by inspiring, engaging, and mobilizing parents/caregivers to improve the educational outcomes of Black children. BPI is currently the only culturally specific organization in Portland focused solely on supporting low/moderate income parents in North/Northeast Portland as a vehicle for enhancing the lives of Black youth.
Our programs are based in a large body of research that shows children are more likely to succeed when supported by stable, balanced and informed parents. Historical, socioeconomic, and racial factors keep a disproportionately large percentage of local Black youth from being raised in this type of environment. Our programs address these complex factors through working to reduce the disparities which impact the county's 45,000+ African Americans
BPI's programs are evidence based, utilizing a culturally-specific Effective Black Parenting Model from the Center for the Improvement of Child Caring. They are implemented in partnership with Black churches, schools, local organizations, and community members.
Based on the demographics of current and past clients, parents/caregivers will be 22 to 65 years old; 60% female; 40% male; 70% single parents (the vast majority of whom will be female); and 99% Black/African American. 40% of clients will have less than a high school education and 60% will not have a college education. Nearly all BPI clients live below 200% of the federal poverty level and reside in North/Northeast Portland. Children are equally affected by poverty and range in age from birth to 23. All children served are Black/African American or mixed race.
Executive Director
Charles McGee III
(503) 493-9722
begin_of_the_skype_highlighting
(503) 493-9722
end_of_the_skype_highlighting
Director of Operations and Finance
Kathy Coombes
503-493-9721
begin_of_the_skype_highlighting
503-493-9721
end_of_the_skype_highlighting
503-490-0520
begin_of_the_skype_highlighting
503-490-0520
end_of_the_skype_highlighting
(cell)
Program Manager, Community Education and Outreach
Crystal Marion
503-493-4700
begin_of_the_skype_highlighting
503-493-4700
end_of_the_skype_highlighting
503-502-6790
begin_of_the_skype_highlighting
503-502-6790
end_of_the_skype_highlighting
(cell)